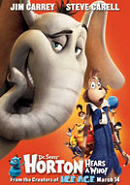 My son and I ventured out to the theater today. It marks the first day of his Spring Break! Since he's too young to partay with the babes and bros in Florida, hanging out with mom will have to do.
Choices were very limited. The only real option was
Horton Hears a Who
. In no way was I disappointed; nor was he. Lots of fun and shenanigans to behold. I just can't bring myself to hate anything Seussian. It's the law.
I'm not writing a review or a synopsis of the flick. I mean, who hasn't read the book? It's worth the ticket price. What I
am
writing about is the use of an
REO Speedwagon
song at the end. Horton and the residents of Whoville start singing,
"I Can't Fight This Feeling."
There I sat wearing my
Stuck In the 80s
tshirt and singing along. It's all further proof that the 80s shall reign as a superior decade ... even in the world of Seuss.