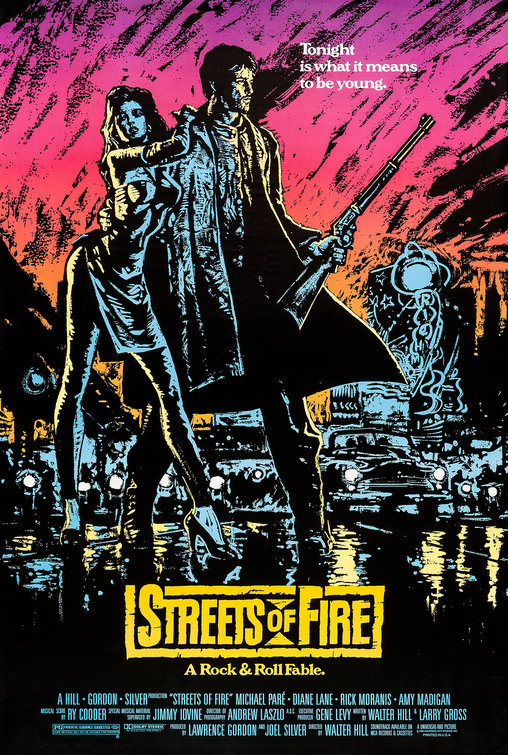 Nothing speaks to me at this time better than "Sorcerer" from
Streets of Fire.
Oh, you don't know that little number? It's a good one. Diane Lane's character sings it. Marilyn Martin was the actual voice while Stevie "Elmer Fudd in a Juicer" Nicks sang back up vocals. Stevie wrote the song, by the way. Marilyn's name might be more familiar coupled with Phil Collins on the song "Separate Lives" from the film
White Nights
starring Mikhail Baryshnikov and Gregory Hines. The soundtrack for Streets of Fire is worth picking up. Seriously! The movie is totally campy, but sometimes superb soundtracks come from the bowels of craptastic flicks. It's overflowing with vocal fakers. The fabled Sorels dance and mouth "I Can Dream About You" while uber caucasian Dan Hartman really did the work.
Hmmmm Diane Lane lip syncs in Streets of Fire as Ellen Aim. Michael Pare' co-stars as the gun toting bad ass out to be her rescuer when she's abducted by a leather sporting Willem Dafoe. Now that I think of it, Michael Pare' lip syncs in
Eddie and the Cruisers
.
John Cafferty and the Beaver Brown Band
provide the sound. The sound that is very much like B
ruce Springsteen and the E Street Band
. Hmmm I think there's a Six Degrees of ??? here. Could I be on to something? I'm half way there.
Help a sister out!
This post has taken on a life of its own. The direction is absolutely not where I was heading, but here we are. I'm tired and house/dog sitting for my sister who has taken her family to Disney World. This is what I had hoped to be
my
stay-cation, but alas, that is not materializing. I'm a little scorned and sore over not getting much time off from work. Someone else was taking a real vacation. I'm working seven days in a row. Beware on day seven. Hell hath no fury like that of a worn out Riss. I'm caring for two homes, 2 cats, 2 dogs, working f'ing retarded hours and I'm expected to maintain my sanity and keep smiling?
Heh. We'll see how it all turns out.
OK, you have a task at hand. Let's take this six degrees of separation to the end. I know you can do it!!