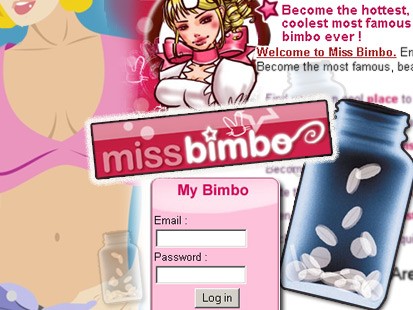 No, I'm not a bimbo. At least not by the current standards of bimbo. I'm a flirt. I do believe there is an enormous gap between being a bimbo and a flirt. If there's not; there should be.
I was doing my daily ritual of Googling something. Anything. Tonight's choice was
legs.
However, I typo ed and typed in
lets.
And what did I spy with my little eye? The image you see to the right. Disturbing. Very. Apparently there is a legitimate (loosely used phrase) that encourages girls to explore their inner bimbo. Thanks Paris, LiLo, Kim, Britney, Cast of
The Hills
. You've successfully made it socially acceptable to be a hoo-er. Skanky. Ridiculous. And someone is profiting from the ignorance and stupidity.
ABC News online
reports that the primary users of this website are primarily teenagers, but as young as age 8. The report from March, 2008 states there are over 200,000 users. Excuse me while I go toss my dinner. No, I'm not practicing a trendy Hollywood Celebritant diet. I'm legitimately sick to my stomach. For countless decades women have been fighting to be taken seriously. What happened? I doubt this is what Susan B. Anthony had in mind, ladies. This sort of behavior is not empowerment. It's selling yourself to the highest bidder. Two steps forward, three steps back. Even if you're wearing Jimmy Choo's that just ain't cool!